You need to play a total of 20 battles to post in this section.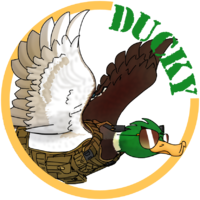 Make Ducky play awful ships, EP 5. streaming tonight
Which awful build should Ducky play?

42 members have voted
1. Which build should Ducky play?

Full secondary/fires build Alsace with HE only (HE only optional). Bft, de, Aft, manual secondaries, 3rd slot secondary battery upgrade, 6th slot secondary upgrade. (eagle_lance)

Radar Edinburgh Upgrades: MAM1, Hydro or Radar Mod if available, TTM1 (Faster Torps), SGM1, TLS (Better Torp Detection) Captain Skills: Torp Acceleration, Torpedo Armament Expertise, Vigilance, Radio Location(TheOmegaDuck)

Gunboat Asashio, including EM, BFT and AFT on the Captain, Main Battery Mod 2, and Steering Gears Mod 1 and 2. (Brohk)

Secondary build Texas. (BrushWolf)

Hard-hitting, remote-reaching, sight-seeing, short duration Smoke Smolensk: IFHE ("Hard-hitting") AFT and Range mod in Slot 6 (Gun Fire Control System Modification 2) ("remote-reaching") RPF ("sight-seeing") Smoke Generator Modification 1 in Slot 3 (Short duration Smoke Smolensk) (henrychenhenry)

Bone stock Buffalo with a 10 point captain. (ZARDOZ_II)

Secondary spec Stalingrad, Moskva, or Petropalvask (all of them work) It appears their secondaries have improved dispersion ala Massachusetts, so why not try it out. BFT, AFT, IFHE, man sec mandated (tfcas119)

Khabarovsk running full Torpedo build with maximum concealment and smoke instead of heal. (XSerpent_LordX)

Full secondary build Edinburgh with MFCS. (ensign_cthulhu)

Torpedo-build Acasta, with TA, TAE, TTM1 module. (Mono_De_Mantequilla)
---
35 comments in this topic

This topic is now closed to further replies.
---
Recently Browsing

0 members

No registered users viewing this page.