You need to play a total of 20 battles to post in this section.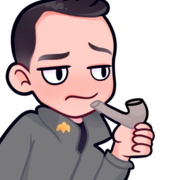 38 comments in this topic
Recommended Posts
Recommended
So for people having trouble visualizing this: Halland Detectability by air is 2.7km currently.  This buff would reduce that to 1.35km by air so long as your AA is not firing.  Once your AA fires, you will be detected at 6km for 20 seconds.  Essentially, your AA guns will now have a bloom similar to main guns. So if you don't fight back against planes at all, you'll be detected only when they are essentially on top of you, making it easier to dodge.  If you fight back, they will get the full AA range to detect you. I'd say if you are in a bad AA DD, you'll probably only even bother turning on your AA if you are with a group of ships. This is a buff to DDs for sure, but this will also increase the skill gap of CVs, which is something this entire mess was intended to avoid.
Recommended by
Hapa_Fodder

This topic is now closed to further replies.
---
Recently Browsing

0 members

No registered users viewing this page.