We (again) had to make some choices today.  On the menu, we have an entire Italian cruiser class, followed by the Dutch Tromp-class, Japanese escort aircraft carrier Unyo, and for dessert the US Clemson-class.  Happy Halloween!
47 Allied surface ships were laid down between 1912 and 1944, among which the British BB HMS Warspite

75 Allied surface ships were launced between 1917 and 1945, mostly landing craft

55 Allied surface ships were commissioned between 1918 and 1945

4 Allied ships were lost between 1940 and 1943

2 Axis ships were laid down between 1899 and 1928: Japanese protected cruiser Soya and Italian CL Giovanni delle Bande Nere

1 Axis ship was launched in 1939: the Japanese escort carrier Unyo

4 Axis ships were commissioned: German pre-dreadnought Wörth (1893), Japanese CA's Kumano and Suzuya (both 1937) and Japanese CL Agano (1942)

No Axis ships were reported as lost today
1928
On October 31, 1928, Italy laid down light cruiser Giovanni delle Bande Nere (Giovanni of the Black Bands), named after an Italian mercenary, member of the very influent Medici family.  This gentleman's tomb has been opened 5 times already, which makes the ship with the same name the perfect candidate for our Halloween-timed daily thread..
Italian cruisers' genesis – Armored cruisers
.
The first Italian cruiser was the Marco Polo.  An armored cruiser, she entered service in 1892, and served until 1921, but her obsolescence saw her transformed into a troop transport in 1917.
.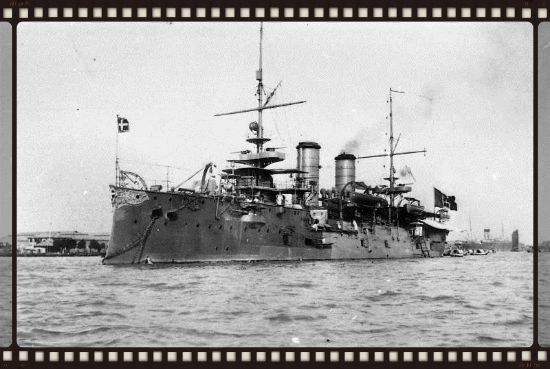 Marco Polo
.
Following her was the Vettor Pisani-class, composed of 2 ships (Vettor Pisaniand Carlo Alberto) who served until 1920.
.
Carlo Alberto
.
They were replaced by the Giuseppe Garibaldi-class, which launched Italy on the international scene as a cruiser manufacturer.  While the Regia Marina bought 3 ships (Francesco Feruccio, Giuseppe Garibaldi, and Varese), more were exported, including 1 ship going to Spain, 2 to Japan, and 4 to Argentina.  The 3 Italian cruisers served through World War I, with the exception of Giuseppe Garibaldiwho fell victim of Austro-Hungarian submarine U-4who torpedoed her on July 18, 1915.
.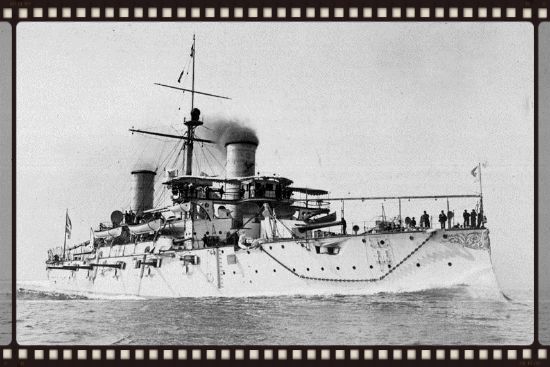 Giuseppe Garibaldi-class
.
The first modern looking cruisers, at least in my opinion, were the Pisa-class.  3 were ordered, but only 2 were commissioned, because of financial problems, while the 3rd one was sold to Greece.  The first one, Amalfi, was sunk by another Austro-Hungarian submarine (U-26), while Pisasurvived and served until 1937.
.
Pisa, 1932
.
The last armored cruisers' class in service in the Regia Marina was the San Giorgio-class who, built before World War I, served until World War II.
.
With the arrival of Mussolini as head of government in 1922, rivalry between France and Italy, who had been allied during World War I, goes crescendo.  One's move is followed by the other one's reaction, and the cruiser category is not spared.  The French launch several classes of large destroyers, from the Jaguar to the Mogador, so large that other countries consider them as light cruisers, and the Italian, in return produce the Sella, Turbine, and Navigatori classes.
.
.
Condottieri-class
.

.
Speaking of one Condottieri-class is misleading, as the 12 ships built within this "class" saw a displacement varying from 5,000 to 10,000 tons.  The only thing these ships had in common was that they were all named after Italian condottiere (warlords).
.
Type I (Alberto di Giussano):  The first type was the Alberto di Giussano and included 4 cruisers: Alberto di Giussano, Alberigo da Barbiano, Bartolomeo Colleoniand Giovanni delle Bande Nere.  They were laid down in 1928.
.

Type I
.
Type II (Luigi Cardona-class):The next ships (Luigi Cardonaand Armando Diaz), laid down in 1930, were similar to the Alberto di Giussano-type, but were heavier.
.

Type II
.
Type III (Montecuccoli):These ships (Raimondo Montecuccoliand Muzzio Atendolo), laid down between 1931 and 1933 were clearly heavier, but also more powerful (106,000 hp vs. 96,000 for the former types).
.
Type III
.
Type IV (Duca d'Aosta):Laid down in 1932 and 1933, the two ships (Emanuele Filiberto Duca d'Aostaand Eugenio di Savoia) are even bigger, but their size is compensated by larger engines (110,000 hp), which gives them the same speed as the Montecuccoli-class.  JeeWeeJ covered them for you briefly on October 29.
.

Type IV
.
Type V (Duca degli Abruzzi): The last two ships (Luigi di Savoia Duca Degli Abruzziand Giuseppe Garibaldi) were even larger.
.
Type V
.
This constant evolution was a reaction to the ever more powerful French destroyers and, in the case of the Duca degli Abruzzi, the introduction in the French Navy of the La Gallisonnière-class.
.
.
Edited by Ariecho, 31 October 2013 - 05:29 PM.