The following posts were part of a little project I put together a couple weeks ago, to commemorate the anniversary of the battle of Leyte Gulf.  The goal (in principle approved by CatStalker) was to have him post the Japanese part on October 23rd and the US part on October 24th.  He must have been pretty busy though, as he hasn't even read any of them), so I will post them on behalf of the team who put a lot of efforts into them.
.
So, and before you comment on the following posts, I will ask you one BIG favor.  If you have any positive comment to make, reflect them to those who wrote the stories, not me.  I'm just the coordinator.  In other words,
please NO +1
.  Reserve them to NGTM_1R and Guardsman322nd.  They are the ones who deserve them.
.
The battle of Leyte Gulf
(by Ariecho)
.
Between October 23 and October 26, 1944, naval forces of the United States, Japan, and to some extent Australia, clashed in what is now known as the Battle of Leyte Gulf, but should really be named the Battle
s
of Leyte Gulf.  Several books have been written on the subject, and everybody knows about the dramatic events that happened in the area, whether it is the odyssey of the
USS Johnston
, the sinking of the battleship
Musashi
, or the end of the Princeton.  Some historians considered the Japanese attack a suicidal attack in the real sense of the word: not because they didn't have any chance, but because some high ranking naval officers thought it wouldn't be honorable for the Imperial Japanese Navy to survive what they thought was an already lost war.  Admiral Kurita himself sent the following message to his subordinates:
"I know that many of you are strongly opposed to this assignment.  But the war situation is far more critical than any of you can possibly know. Would it not be shameful to have the fleet remain intact while our nation perishes?  I believe that the Imperial General Headquarters is giving us a glorious opportunity.  Because I realize how very serious the war situation actually is, I am willing to accept even this ultimate assignment to storm into Leyte Gulf..  .You must all remember that there are such things as miracles.  What man can say that there is no chance for our fleet to turn the tide of war in a decisive battle?  We shall have a chance to meet our enemies.  We shall engage his task forces.  I hope you will not carry your responsibilities lightly.  I know that you will act faithfully and well."
By October 1, 1944, the Imperial Japanese Navy had a grand total of 75 ships available, not counting some 15 older destoyers.  They committed 65 at Leyte plus 1 of the aforementioned older destroyers.  Against them, the Allied forces had a comparable number of ships, with 3 major differences:  The Japanese fleet at Leyte was the
entire Japanese fleet
, the Allied fleet was "only" 4 Task Groups.  Out of the 65 Japanese ships, only 14 were capital ships or aircraft carriers.  In comparison, Task Force 38 had 9 aircraft carriers, 8 light aircraft carriers, and 6 battleships.  Even if Japan had managed to pull an ace off their sleeves at Leyte, they could only build an equivalent of 75,000 tons of ships per month, while the Allied numbers were not even comparable.  All in all, Leyte could not be won by Japan, and yet, they still came...
...
The following is a series of articles written by a team of World of Warships' members on the North American forum.  The first two parts are a review of the battle, as seen from the Japanese side, and we will then offer you another review, from the US side.  Finally, I'll invite you to read a testimony from someone who had a family member present at Leyte.  So, and as they say in theaters: sit back, relax, and enjoy the show.
...
The battle of Leyte Gulf: Imperial Japanese Navy point of view
(by NGTM_1R)
(The Battlefield; Surigao Strait)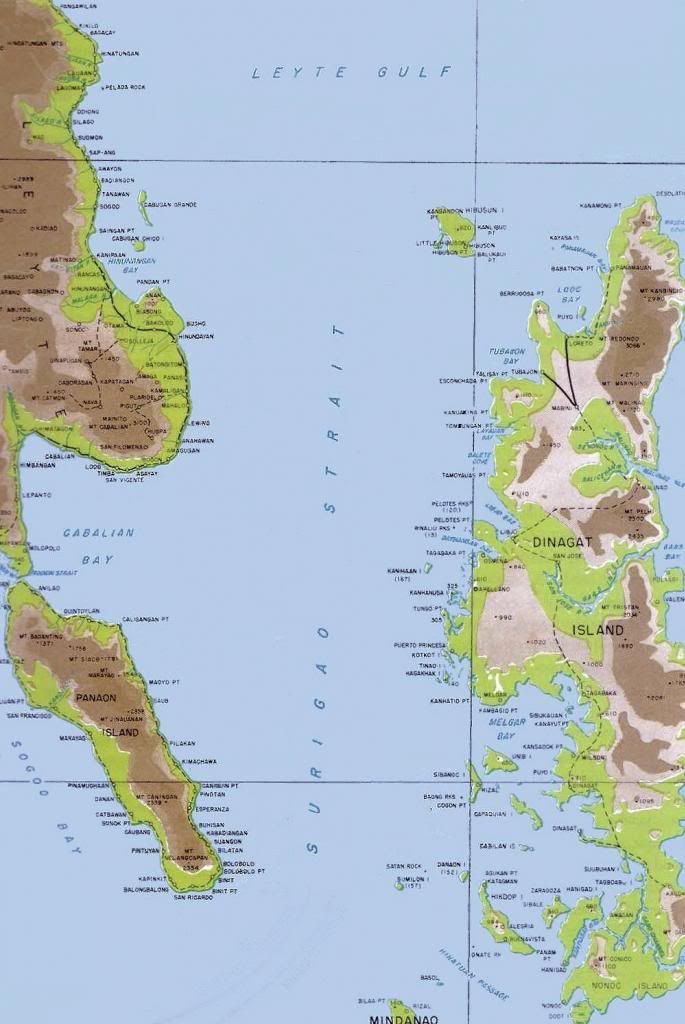 Planning and Approach
.
The Battle of Surigao Strait was, ironically, not a part of the initial Japanese plan for Leyte Gulf. Dubbed "Sho-1", that plan was devised to repel a landing in the Philippine Islands. The carriers would feint from direction of Japan and draw off Fast Carrier Forces Pacific Fleet; the surface fleet would approach through San Bernardino Strait, attack the landing force and destroy it, and then withdraw to the south. Surigao Strait would not be their entry point, but their eventual method of escape.
...
That plan was put into motion in the afternoon of the 18th of October. Battleships Fuso and Yamashiro, diehard cruiser Mogami, the three ships of Destroyer Division 4, lucky destroyer Shigure, and Vice Admiral Kiyohide's Shima's 2YB were all slated for tasks they would not actually carry out. The battleships, Mogami, and destroyers were to accompany Vice Admiral Takeo Kurita's 1YB through San Bernardino Strait. 2YB was assigned to Vice Admiral Gunichi Mikawa's Southwestern Area Fleet and expected to spend the battle ferrying soldiers between Manila and Leyte.
.
Yet these were not to be. Before darkness on the 18th, Mikawa ordered 2YB to stand by and await developments. He believed he already had enough ships, and to immobilize two heavy and one light cruiser plus their destroyer screen when the Imperial Japanese Navy was committing everything to a do-or-die final effort seemed unsound to him. Imperial Headquarters had crafted their plan for Shima's force with exactly the opposite belief; 2YB was far too small to send off to battle alone. Immediately, everyone set out their own plans for 2YB. Headquarters wanted to stick to the plan in hopes of getting the Army to commit more troops; Ozawa's carrier forces wanted 2YB back for a second decoy and planned to add a destroyer squadron as well as battleships Ise and Hyuga to it for a more tempting target; Kurita's 1YB didn't want them.
(Kiyohide Shima during the war.)
.

.
As the staffs battled it out through the 19th and 20th, and Kurita's fleet dropped anchor at Brunei Bay, another fateful decision was made. From on high, only two hours after the actual landings at Leyte began, came the suggestion that perhaps it would be better to split Kurita's forces, and attempt a penetration of Leyte Gulf from both the north and the south. As the day wore on, Mikawa essentially rebelled against headquarters in Toyko and directed Shima to do as he wished. Shima immediately began lobbying hard to operate jointly, but not directly with, Kurita's force. Late that night, Shima sent his proposed plan to Kurita: 2YB would attack from the south via Surigao Strait while 1YB attacked from the north via San Bernardino Strait.
.
(Shima's flagship Nachi, via shipbucket and BB1987)

.
It was a bold plan, foolhardy even. Shima proposed to send his force of three cruisers and seven destroyers alone through Surigao Strait. If the Americans sent even a fraction of the forces they were known to have available, Shima faced certain destruction. Kurita's reaction is not known, but the timing indicates this may have factored into his decision to accept the suggestion from Headquarters that he detach some forces and attack from both directions. Yet Tokyo was still arguing with Mikawa.
.
While Mikawa continued to fight with Tokyo over the proper employment of Shima's force, and Shima quietly fumed on the sidelines as three of his destroyers were stripped away, October 21st at 1700 saw the final pre-operation conference in 1YB. As Kurita's operations officer laid out the orders for the detachment of BatDiv 2 to attack via Surigao Strait, Vice Admiral Shoji Nishimura apparently showed no reaction to the change that separated his two old battleships from the more powerful and quicker ones of BatDiv 1 and BatDiv 3.
.
(Shoji Nishimura after his promotion to Vice Admiral)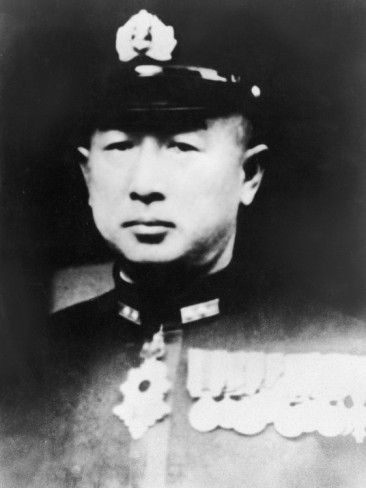 .
While the entire operation was being carried out in the belief that it was better for the Navy to sail to battle and die than survive while Japan was destroyed, BatDiv 2 had special cause to be worried. They'd been nearly ordered to certain death once already during the Marianas landings. Fuso and Yamashiro were old, having been laid down before World War I and completed during that conflict, and were possibly the least-modernized warships in the Imperial Japanese Navy. Their speed was too slow for modern operations, their plates leaked, and even in a culture as devoted to politeness as that of Japan it was common to refer to them with derogatory terms. If there were two battleships that the IJN was willing to throw away, it was Fuso and Yamashiro.
.
Nishimura's force was to be off Talcoban an hour and thirty minutes before Kurita's. A mere seven ships, alone against whatever the Americans could throw at them for 90 minutes. Their survival was improbable and it is likely that Nishimura was expected to lead his command to its destruction. Certainly things were communicated to the crews that way. One of Fuso's survivors stated their mission was described to them as a "special attack" (the Japanese euphemism for kamikaze missions), while Captain Tomoo Tanaka of destroyer Michishio said that his officers thought themselves to be participating in a "suicide mission, and none of them expected to return."
.
By noon of October 22nd, the pieces finally fell into place; Shima's desire to attack from the South was confirmed and Nishimura's force was given the same mission. The orders of each force contained no reference to the other, being crafted independently and coming from different commands. Nishimura would set out for Surigao at 1530 that day. Shima was at sea, headed down the west coast of Luzon to Coron where he would refuel. Combining the two would require Shima to speed up considerably, or Nishimura to slow down. Shima was loathe to speed up; he was hoping to get the three destroyers of DesDiv 21 back if they could refuel quickly enough from their previous assignment, and he feared that a rendezvous at or near Surigao in the darkness would provoke a friendly-fire incident between the two forces. (In the event, DesDiv 21 was detected and bombed by aircraft from USS Franklin the next morning for one destroyer damaged and one sunk, so they never came) Nishimura was loathe to slow down, as he considered it vital to transit the Strait and arrive in attack position off Talcoban before dawn so as to give his relatively small force any chance to accomplish their mission. With this, any chance to combine the two groups effectively went out the window, and their relative fates were sealed.
.
Morning of October 24th.
Action would open for them on October 24th, as at 0855 radar on Nishimura's flagship Yamashiro reported enemy aircraft. Destroyer Asagumo reported visually sighting the enemy ten minutes later, and prepared to open fire at about 0901. Main battery on Yamashiro and Fuso loaded 14" Type 3 Sanshikidan shells and opened fire at maximum range, hoping to disrupt the target-selection process. A mixed group of fighters and bomb-armed torpedo aircraft dove on Yamashiro, while the dive bombers split their attentions between Fuso and Mogami.
.
(Fuso and Mogami under air attack)


(Fuso, during the same attack)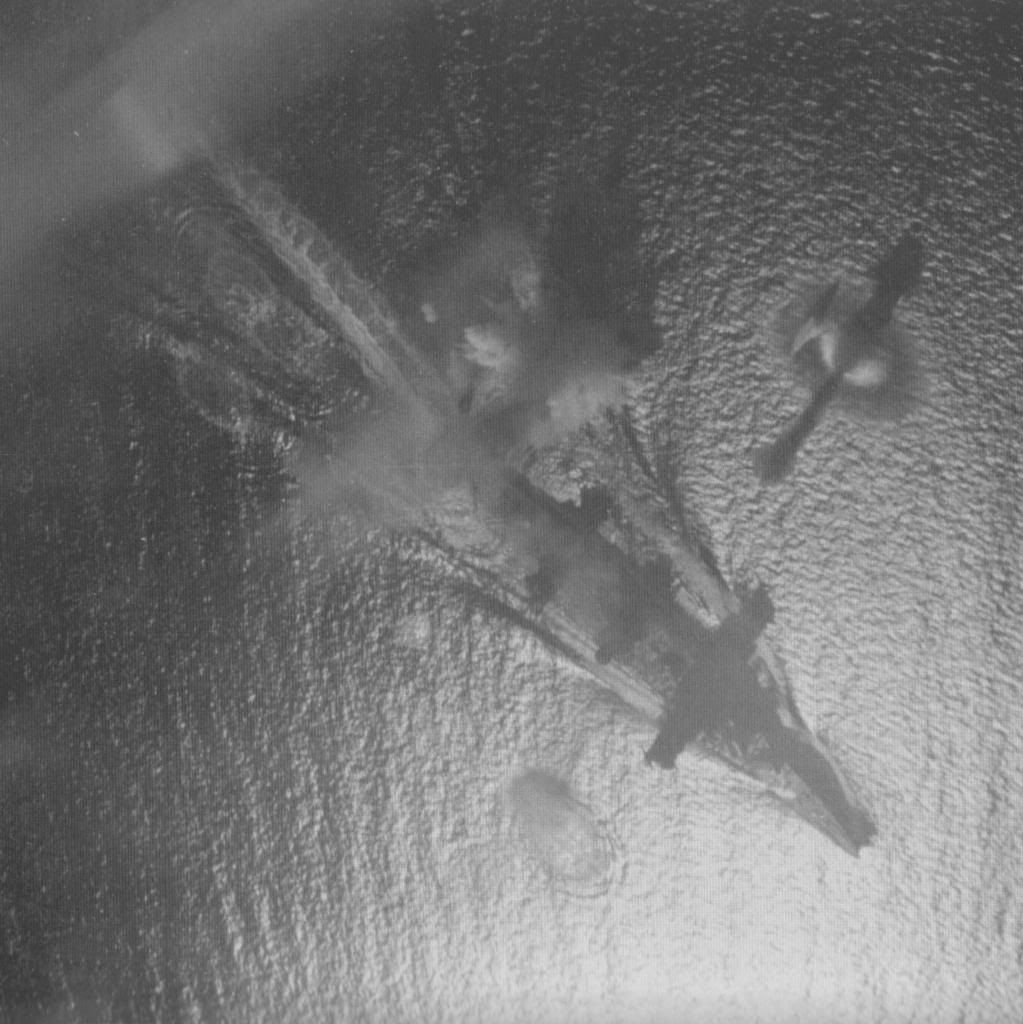 .
Yamashiro was strafed, bombed, and rocketed. Twenty men in exposed positions were killed and bullets penetrated the bridge and injured at least one person, while a near-miss to starboard started a bad leak by opening the seam between armor belt and torpedo blister. Fuso suffered worse on the surface. One bomb struck just behind and to the right of Number Two turret, penetrating the armored deck and detonating inside the space for No. 1 secondary battery and killing its crew. The blast opened some seams and started a minor leak. Another bomb landed on the stern, where Fuso's floatplanes were being prepped for takeoff. There was at least one secondary detonation of a float-plane depth charge, which blew a hole in the side of the stern above the waterline, while the floatplanes' fuel tanks were shattered by shrapnel from the blast, dumping burning avgas onto the deck. Mogami, with its last two floatplane crews sweating out the attack on their catapults, had its plane-handling deck strafed but no bombs struck home. The attack was over within half an hour.
.
To the others, Fuso appeared to be in trouble. A huge cloud of smoke covered the battleship's stern. But it wasn't as bad as it looked; damage control crew jettisoned the burning floatplanes and had the fires out within 25 minutes. Yamashiro actually had it worse, as the plates had sprung at the join between the belt armor and torpedo bulge down nearly a third of the length of the ship. Flooding in the starboard bilge caused the battleship to list 15 degrees at one point, but eventually the pumps and counterflooding of the port bilge brought the ship back to normal.
.
The mystery of this attack is destroyer Shigure. While after the war it was said that she took a hit to the forward turret, injuring six and killing five, the same man who said this originally later denied it and pointed out that Shigure would have her forward turret in action that evening at full effectiveness. Dockyard records of repairs for Shigure after Leyte do not mention any work being done to repair damage to the forward turret either.
.
Nishimura and his men expected to face an increasing barrage of air attacks, but at those attacks never came. While those few aircraft were working them over, the US carriers were preparing to attack a far more interesting target: Kurita's much larger group. With that, they were given a reprieve.
Edited by Ariecho, 28 October 2013 - 10:57 PM.