General
A little change of plan on the "menu" announced yesterday. We were going to cover a Russian ship, but thought it would be a bit disrespectful to another ship that is closer to home on the American server.

Also, this will be a two-parter...as we've used too many pictures.
In the meanwhile, here are the usual statistics of the day. You know the drill by now, no submarines nor merchant ships are included in the numbers below. Although labeled "ships", statistics include military ships and boats.
1 German surface ship was launched on October 3 (see 1936 below).  None were launched nor commissioned.

1 Japanese ship was launched: Protected Cruiser Yahagi (1911), and 1 was sunk: Pre-Dreadnough Iki (1915).

20 Allied ships were laid down on an October 3, 49 were launched, and 17 were commissioned. 4 were lost.

1 Italian ship was launched (Torpedo Boat Libra), and 1 was commissioned (Corvette Gabiano) .
1925
On October 3, 1925, CV-2, named after Minutemen who fought a detachment of British troops at Lexington, Massachusetts during the Independence War, was launched. USS Lexington was laid down on January 8, 1921, and commissioned on December 14, 1927.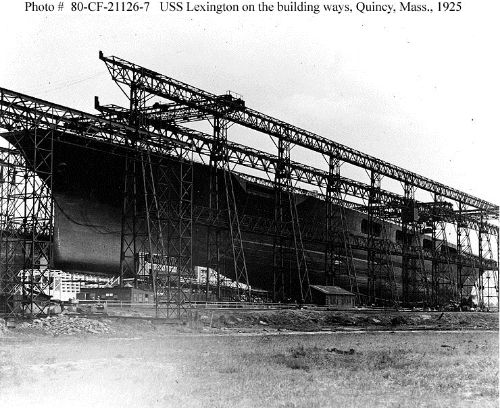 Lady Lex, as she was nicknamed, was the lead ship of her class, originally built as a battlecruiser.  Her conversion was the result of the Washington Treaty of 1922, which cancelled the construction of all battlecruisers and battleships, but authorized their conversion.  Two Lexington-class aircraft carriers would be built: USS Lexington, and USS Saratoga.  The Lexington-class followed the Langley-class and would be followed by the Ranger-class.

Lexington, from battlecruiser to aircraft carrier
Specifications (source: NavSource Online)
Displacement (design): 36,000 tons standard; 38,746 tons
Dimensions (wl): 850' x 105' 5.25" x 24' 3"  /  259.1 x 32.1 x 7.4 meters
Dimensions (max.): 880' x 106'  /  268.2 x 32.3 meters
Armor: 7"-5" belt; 2" protective (3rd) deck; 3" (flat)-4.5" (slopes) over steering gear
Power plant: 16 boilers (300 psi); geared turbines and electric drive; 4 shafts; 180,000 shp (design)
Speed: 33.25+ knots
Endurance (design): 10,000 nautical miles @ 10 knots
Armament: 4 twin 8"/55 gun mounts; 12 single 5"/25 gun mounts
Aircraft: 90
Aviation facilities: 2 elevators; 1 flywheel catapult
Crew: 2,122 (ship's company + air wing)
Not having been originally conceived as an aircraft carrier, Lady Lex had all the luxury and the sins of a battlecruiser.  I'll let experts discuss the Lexington-class as will, and will focus on Lady Lex.
[Note: Neither the Lexington-class nor the Lexington are covered on this forum...]
After her original sea trials, Lexington was affected to the Pacific fleet, and was stationed in Los Angeles until 1940.
The 1930s saw her participate in many exercises that would eventually dictate the US doctrine on aircraft carriers.  One of them saw her conduct a successful attack on Pearl Harbor on January 31, 1933, without being detected.
On December 5, 1941, Lexington left Pearl Harbor to ferry aircraft meant to strengthen Midway Island defense.  Two days later, she received news of the Japanese attack and was ordered to intercept the attackers.  All reconnaissance flights came back with empty news, and Lexington continued towards Hawaii, which she reached on December 13.
The next day, Lady Lex left for the Marshall Islands, but again, the mission was cancelled, and Lexington was asked to produce air cover for her sister-ship Saratoga, who was tasked with providing some relief to Wake Island.  Both carriers arrived too late, and the island surrendered on December 23.  Not knowing the strength of the Japanese fleet, they sailed back to Hawaii.
Early 1942, Lexington was assigned to a Task Force whose mission was to conduct a surprise raid on Rabaul.    While around 500 miles from Rabaul, the ships were spotted by a lone Mavis flying boat who managed to radio the Task Force's position before being shot down.  The Japanese reacted by sending some Betty torpedo bombers, their attack failing as no torpedo was available on Rabaul, forcing them to replace them with 250kg bombs.
Battle of the Coral Sea
Again, the focus will be on what happened to the Lexington, rather than the battle itself.  I recommend reading Naval History Heritage, for a good summary, but there are many more detailed books and web sites available to cover it.
Between May 4 and May 8, 1942, the Imperial Japanese Navy started Operation MO, whose goal was to invade both Port Moresby and Tulagi, to provide some defensive bases.  During the first days, each force, composed of 2 aircraft carriers on each side (plus 1 light aircraft carrier for the Japanese), as well as several cruisers and destroyers searched for each other, searched for each other.
On May 7, air strikes from each side targeted enemy aircraft carriers.  That day, aircraft from USS Lexington and USS Yorktown sank the Japanese light carrier Shoho.
The next day, US aircraft also recorded some success and damaged the Japanese aircraft carrier Shokaku.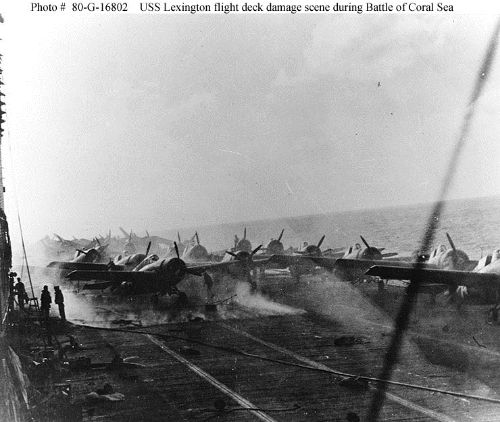 By  11:00AM on May 8, Japanese aircraft spotted both the Lexington and the Yorktown and started their attack.  The first wave was composed of Kate torpedo bombers.  11 of them managed to clear through the carrier's air defense, and 2 of their torpedoes hit the Lexington.  The first torpedo jammed the elevators, while the second one ruptured the primary water main, forcing the ship to shut down her boilers, after 3 fire rooms started to flood.   The Kates were soon followed by 19 Vals, who scored what was apparently minor damage, including some cracked avgas tanks.  However, these would prove fatal, as by 12:45, sparks triggered an explosion from the fuel vapors.
Lexington still seemed to be able to survive and continued air operations when 2 hours later, around 2:45, another explosion occurred, eventually followed by another one around 15:25.  All compartments had to be evacuated, and Lexington was forced to stop.  Despite her crew's effort, the signal to abandon ship was given around 17:00.  While the ship was a total loss, 2,770 of her crew were rescued by other ships of the task force.  Orders were given to the US destroyer Phelps to finish her, which she did with 5 torpedoes. Lady Lex sank around 20:00.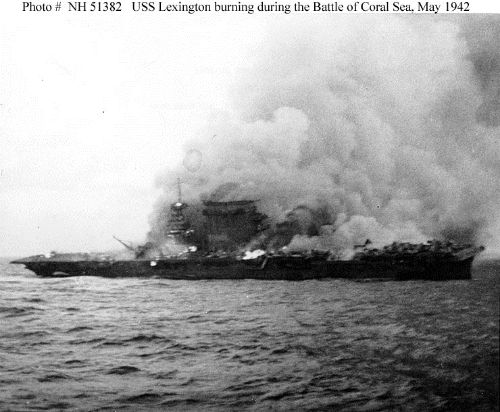 Her sacrifice was not in vain.  The Japanese losses at the Battle Coral Sea would weigh in a subsequent battle: Midway.
Recommended reading: USS Lexington
Sources: NavSource, naval History Heritage, Wikipedia
Battle of the Coral Sea