Guide to Gold Doubloons
World of Warships utilizes two in-game currencies: credits and gold doubloons.  Credits are gained in battle, while doubloons must be acquired in a special manner.  Doubloons are used for special transactions that are described below.  Gold doubloons were formerly known in the Closed Beta Test as "tokens."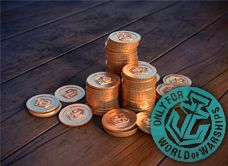 How Do I Acquire Doubloons?
Doubloons can be purchased in the Premium Shop in a bundle.  World of Warships is currently not part of Wargaming's unified account and thus doubloons are not equivalent to the gold used in World of Tanks and World of Warplanes.  This means that doubloons do not carry over to World of Tanks/World of Warplanes and vice versa, but premium time WILL.  There are special cases, such as tournaments or promotions, where may be given to dedicated players.
What Do I Do With Doubloons?
Doubloons can be used for several transactions in World of Warships:
the purchase of premium ships: besides the Premium Shop, certain premium vehicles may be purchased from the in-game shop with doubloons
the purchase of Port slots: the standard price is 300 doubloons and adds one extra slot to the Port; any ship in the Port requires a slot
the purchase of Premium time:

Premium time can be purchased in increments from a day to 12 months, which raises the player's XP (including commander experience) and Credits earnings by 50% for the duration of the Premium time
bonus features include a unique Port and a bonus musical track; Premium time DOES stack with any modifiers (including the daily first win)

the conversion of Ship XP to Free XP: ship-specific XP may be converted to Free XP, which can be used on any ship, at a fee of 1 doubloon per 25 XP
the training of a Commander: training a commander in the "Senior Command Course" costs 25 doubloons and gives the commander 3 undistributed skill points, which can be used to master certain skills
to demount ship upgrades (equipment): all upgrades to a ship can either be demounted for a price of 25 doubloons or be destroyed
to increase number of free places in the Reserve: at a price of 100 doubloons, the Reserve may be expanded by 4 slots (the Reserve stores any commanders who is not assigned to a ship; it is nation-specific)
Additionally, doubloons may be directly converted to credits at a rate of 1 doubloon = 1500 credits.  Credits, however, may NOT be converted back to doubloons.
Edited by Ideas123, 28 June 2015 - 02:42 AM.